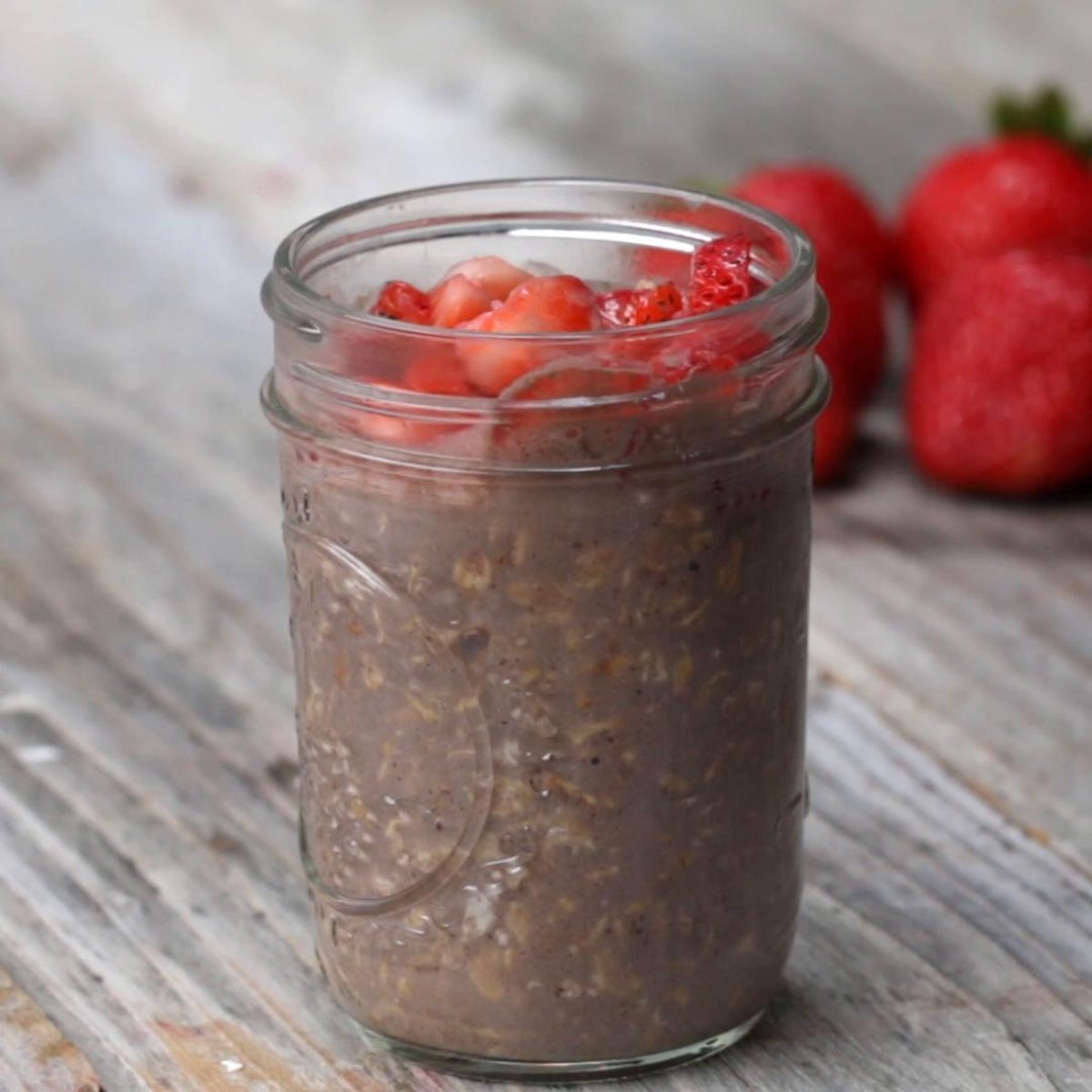 Ingredients
½ cup rolled oats
½ cup preferred milk
¼ cup light greek yogurt
1 teaspoon maple syrup
1 teaspoon cocoa powder or chocolate protein powder
2-4 strawberries, diced
Preparation
In a mason jar, fill with rolled oats, milk, Greek yogurt, cocoa powder or protein powder, and maple syrup.
Stir until well combined.
Place diced strawberries on top and seal jar.
Place in fridge and soak overnight.
Keep refrigerated until ready to eat.
Inspired by https://tasty.co/recipe/strawberry-chocolate-overnight-oats
N GOOD HEALTH is counting on you for an
important assignment. Your not-so-top secret
mission? To join Mission: Nutrition and meet
daily healthy nutrition targets! Over six weeks,
you'll learn simple life strategies for eating
well-rounded meals, reducing cravings and
supporting a healthy relationship with food.
REGISTRATION: Feb. 13 to March 5, 2023
CHALLENGE DATES: Monday, Feb. 27, to Sunday, April 9, 2023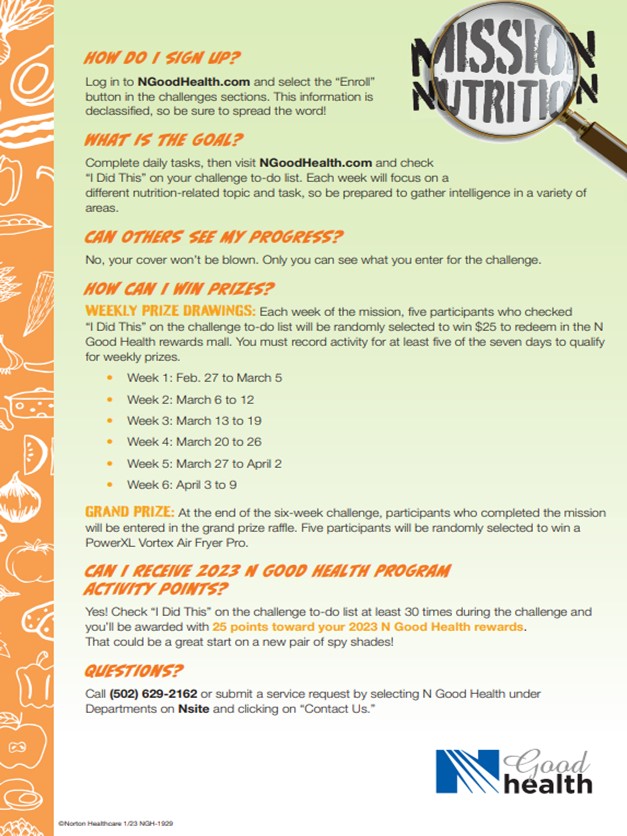 Get moving in 2023 with free fitness classes for Norton Healthcare employees and spouses at Norton Sports Health Performance & Wellness Center!
This innovative space, located at 9451 Westport Road, offers training and workout space that meets the needs of elite athletes, people who are new to fitness and everyone in between.

The free Basic LIFEready group training program, exclusively for Norton Healthcare employees and spouses, is an eight week session of fitness classes designed to build cardiovascular and muscular strength for those just starting with exercise or have been away for a bit.
Basic LIFEready classes are scheduled:
Weekdays, Monday through Friday, at 6 p.m.
Saturdays at 8 a.m.
Basic LIFEready classes include:
Initial assessment (Jan. 7 from 8am to 11am – sign up for a 30-min block below)
6 class offerings to choose from, unlimited attendance but 3 per week is recommended
Yoga class attendance
Post assessment
To enroll, click here. Create an account or sign in to an existing Mindbody account. Make sure that "Basic LIFEready Cohort 1" is in your cart and check out. After you've enrolled, you'll have access to the class schedule. The last step will be to sign up for the pre-assessment on Jan. 7.
Following the completion of the 8-week program, you will complete a post-assessment to see your progress.

Visit NortonSportsPerformance.com for more information about the facility and other discounted membership options.
Troubleshooting: If you don't see the correct cohort in your cart, go to the Online Store tab and select BasicLIFEready from the dropdown menu. Then continue to checkout.