****************THE DEADLINE HAS NOW BEEN EXTENDED TO DECEMBER 1, 2************************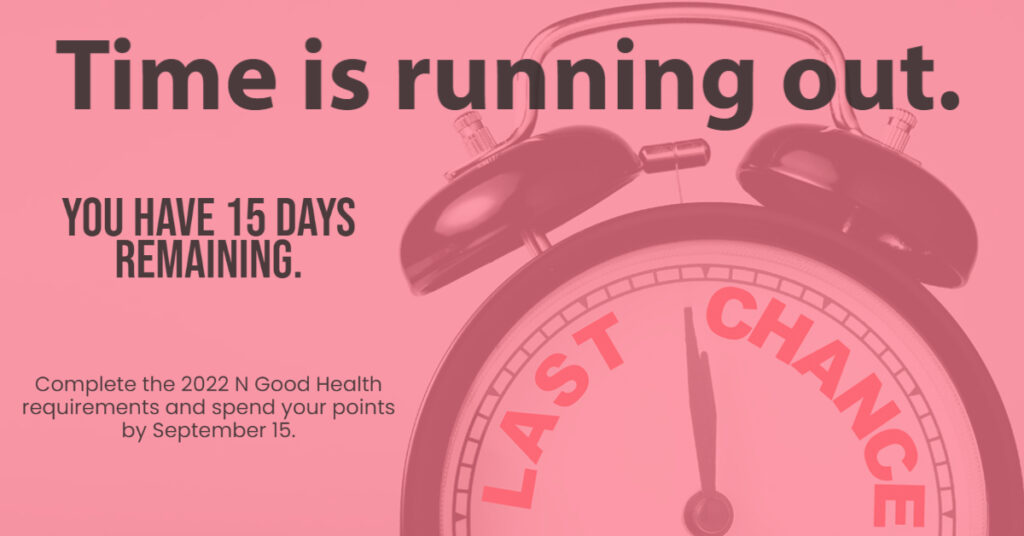 September 15 is the deadline to create a 2022 N Good Health Account, complete program activities and spend your points in the N Good Health rewards mall. To check your ( and your spouse's) progress, log in to NGoodHealth.com. If all requirements are complete, You should see the same profile image on your homepage on NGoodHealth.com. Note that the current balance under 'Your Rewards' is 0 if you have spent all of your points.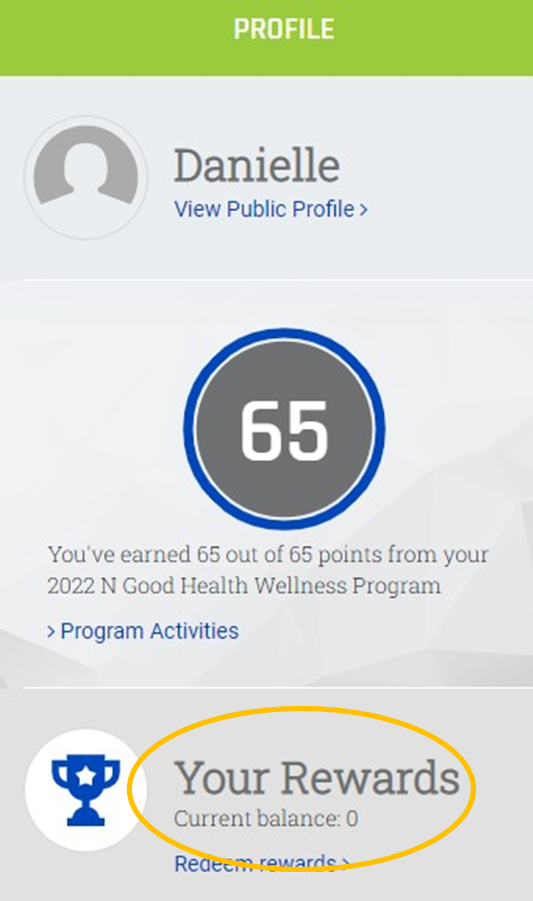 Not finished yet? There's still time but clock is ticking! N Good Health physicals can be scheduled with your primary care provider or at Norton Prompt care at Walgreens clinics. CLICK HERE for a list of Prompt Care locations and to schedule your appointment online.
Actions to be completed by September 15
Create N Good Health account for 2022
Complete Wellbeing Survey
Complete N Good Health Physical
Spend points in N Good Health rewards mall
1 Point = $1. Spend your points by September 15
Turn your points into real time rewards. Select from a one-time additional wellness credit, gift cards, general merchandise or giving back to a charitable cause. 1 point earned through N Good Health is the equivalent of $1 when spending/redeeming/donating them in the NGH rewards mall
How to Redeem:
Click the 'Rewards' tab from the top of the page
Click 'Redeem Rewards' located in the middle of the page in the blue banner
Choose how you want to redeem you points
If you do not spend your points, they will expire on September 15.
*If you are an employee or spouse on a Norton Healthcare medical plan, you can redeem your points for rewards in the N Good health rewards mall. Employees that are not on a Norton Healthcare medical plan are not eligible to spend/redeem points earned in the mall. Your points must be redeemed by Sept. 15. Please note income tax will apply to redeemed points. Points do not roll over and will be lost if not redeemed.
Questions?
Call (502) 629-2162 or submit an N Good Health service request by CLICKING HERE.
If it is unreasonably difficult or inadvisable due to a medical condition for you to complete the N Good Health program to earn wellness credits, you may complete a medical exclusion form in order to qualify for them. Call the N Good Health Department at (502) 629-2162 for the form or answers to any questions.