If at Open Enrollment you elected to have your N Good Health incentive placed in the Rewards Mall, don't forget to redeem those points before the December 1st deadline! Turn your points into real time rewards. Select from wellness credits, gift cards, general merchandise or giving back to a charitable cause.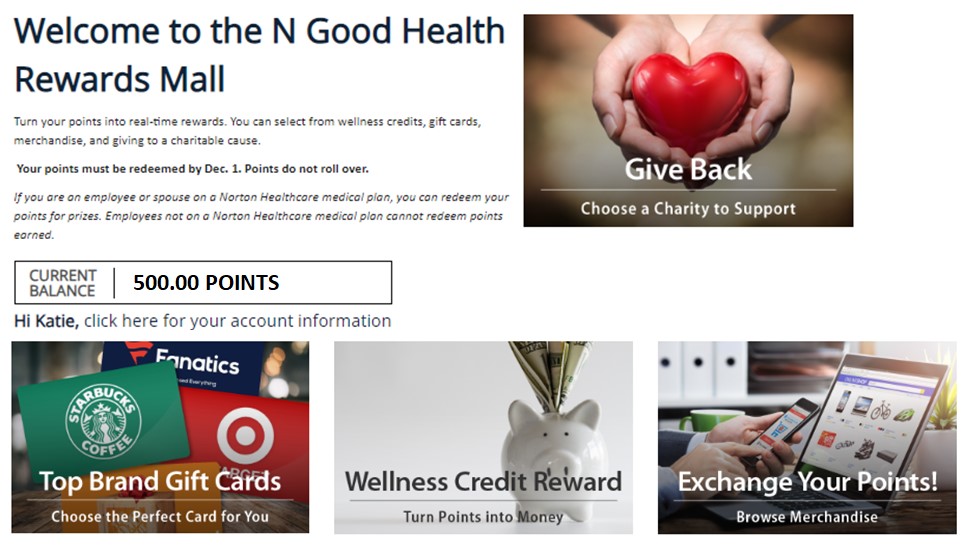 How to Redeem:
Click the 'Rewards' tab from the top of the page
Click 'Redeem Rewards' located in the middle of the page in the blue banner
Choose how you want to redeem your points
*If you are an employee or spouse on a Norton Healthcare medical plan, you can redeem your points for prizes. Employees that are not on a Norton Healthcare medical plan are not eligible for incentives from points earned. Your points must be redeemed by December 1st.  Please note income tax will apply to redeemed points. Points do not roll over and will be lost if not redeemed.
Questions?
Call (502) 629-2162 or email N Good Health at NGoodHealth@NortonHealthcare.org
If it is unreasonably difficult or inadvisable due to a medical condition for you to complete the N Good Health program to earn the incentive, you may complete a medical exclusion form in order to qualify for them. Call the N Good Health Department at (502) 629-2162 for the form or answers to any questions.