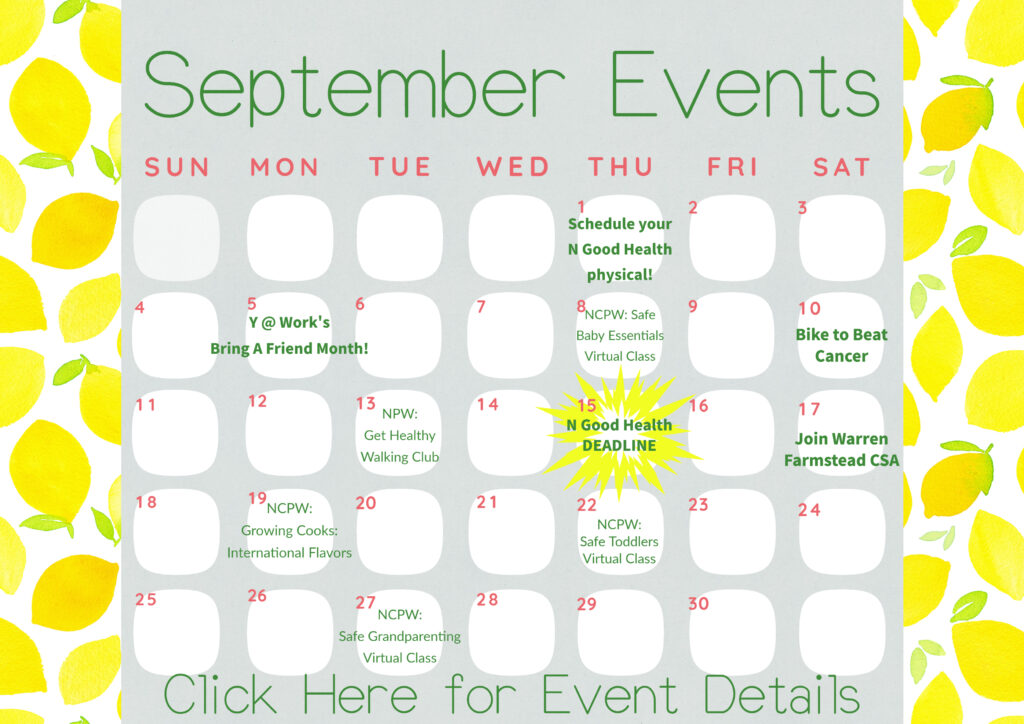 Date(s)
Activity/Event
September 1-30
Bring a Friend Month at the Y @ Work:
Bring a co-worker to the Y @ Work Pavilion Downtown from September 1-30. Each co-worker
you bring earns you an entry for prizes. The more people you bring*, the more entries you'll receive. If your
co-worker joins, you'll earn additional entries. Co-workers who join will be entered into a drawing for a free
month at the Y @ Work. Click here to find out more.
September 1-30
Join the Warren Farmstead CSA (Community Supported Agriculture)!
CSA stands for "community supported agriculture." By joining our CSA, you are buying a portion (or share) of what is harvested in 2023. You pay a fee in exchange for a weekly box of fresh and seasonal items. Exclusive Perks for Norton Employees: 10% off discount and 4 Norton hospital locations. Click here to learn more and sign up.
September 10
Bike to Beat Cancer:
For more than a decade, thousands of families, friends and neighbors have come together to support loved ones and to further the life-saving mission of the Norton Cancer Institute!
Click Here to register to ride or sign-up to volunteer.  
September 1-14
Schedule your N Good Health physical!
If you have a Norton primary care provider, you can use My Norton Chart to schedule your N Good Health Physical. Simply select "Schedule an appointment with your physician" and then select "N Good Health". Don't have a primary care provider? Click the link above to schedule online for any Norton Prompt Care location at Walgreens. You can also call (502) 629-1234; option 3 to make an appointment. Be sure to let them know you are scheduling your "N Good Health Physical" when making the appointment.
September 15
Deadline to complete ALL N Good Health activities and spend points in the N Good Health Rewards mall! Click here for more details.
Click here for details about NCPW events: Norton's Children Prevention and Wellness
Click here for details about NPW events: Norton Prevention and Wellness